Once, they were called the 'death of APIs' and were predicted to entirely replace API-based integration.
Automation Bots have been the hottest topic of the past decade, the software gold mine, though recently, we've seen more and more information about RPA-related problems. Statistics reveal that only 13% of RPA projects advance beyond the pilot stage, and almost half of all RPA initiatives fail. Meanwhile, reports indicate the growing importance of API development. An API strategy' goals are not limited to internal operations optimisation anymore but are seen as a way to empower businesses to build and participate in digital ecosystems. According to Forrester, API strategy is one of 'the key foundations for digital transformation.
'APIs drive agility to optimise customer experiences, create dynamic digital ecosystems, achieve operational excellence, and build platform business models.'
- The Forrester Wave: API Management Solutions, Q3 2020
Business leaders are under severe pressure to accelerate digital changes in response to the crisis. They are searching for technologies to set them on the right course and deliver fast results. Should it be the over-hyped RPA? Or should they select the old-fashion API-led integration? Or how about both for maximum impact?
It was time to dig deeper into RPA (Robotic Process Automation) and APIs (Application Programming Interface) to see if there is a clear winner. Today, we'll look at each technology's pros and cons, the latest trends, and, most importantly, help identify the best ways of leveraging integration and automation potential.
API and RPA - friends or enemies?
API and RPA are like non-identical twins - similar and different simultaneously. Both technologies aim to reduce or entirely remove human intervention from business processes that deal with information exchange. However, their approaches are entirely different.
RPA is closely related to Business Process Automation (BPA) which emerged in the 90s. While BPA deals with end-to-end complex business processes, RPA robots (or bots) mimic human actions to fulfil specific tasks that require no judgement or insight. Bots carry out routine work performed by people by interacting with applications via their UI (user interface). On the other hand, APIs are used to connect software systems ('digital plumbing') to enable direct communication.
Changes in market demands.
69% of boards report accelerating digital business initiatives in response to the pandemic (The 2021 CIO Agenda, Gartner report). 70% of European executives admitted that they were likely to accelerate their digital transformation now. Companies across all sectors had to swiftly adapt their business models to the new reality. The urgent need to optimise operational efficiency, improve supply chain resiliency, and satisfy customers' digital demands have changed IT's role, making it crucial to business survival and growth. Digital initiatives are not seen anymore as purely IT-related but affecting the overall business and its future. A closer relationship between CIOs and business leaders on one side and a tighter budget on the other lead to IT and business joining forces to achieve maximum benefit from digitalisation.
Technology has always played a critical role in business process optimisation, enhancing performance and efficiency; RPA and API are both popular solutions. Historically, business units preferred RPA as a less technical 'no-coding' option with promised faster results and tech experts' minimal involvement. On the other hand, IT departments, with rare exceptions, favoured API-led integration solutions. How has a closer IT/business collaboration affected those choices? Before we answer this question, let us explore both technologies in more detail.
Is Robotic Automation really worth it?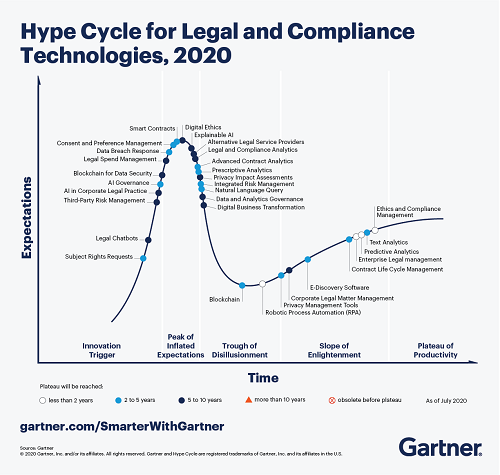 4 Key Trends in the Gartner Hype Cycle for Legal and Compliance Technologies, 2020
RPA (Robotic Process Automation) is a common choice for organisations with many routine processes that are both manual and repetitive. Rule-based tasks, data entry and verification can be an ineffective use of man-hours and error-prone. Robots are very well suited to carry out these responsibilities and free up workers to focus on strategic and creative tasks.
As Robotic Process Automation enters its 'Slope of Enlightenment', based on Gartner's 5 phases in the technology hype cycle, let us explore how its role has evolved. The initial over-hype is gradually getting replaced by a far more realistic view of its value, effectiveness and cost; new ways of using RPA in collaboration with other technologies like APIs (Application Programming Interface) are gaining popularity.
RPA benefits
The RPA market is predicted to grow from an estimated $1 billion in 2020 to $5 billion by 2024 [Gartner, 2020]. Although Gartner expects that "the majority of 'new' spend will come from large organisations that are purchasing new add-on capacity from their original vendor or partners within the ecosystem", plenty of new buyers are adopting RPA. Large and medium enterprises are attracted by numerous advantages promised by the RPA vendors.
Institute for Robotic Process Automation & Artificial Intelligence (IRPA AI) groups RPA benefits into three major categories [Understanding RPA ROI]:
Improved efficiency
Increased innovation
Customer experience
Cost savings & time efficiency improvement
Without a doubt, a robot is much faster and more efficient than a human when it comes to repetitive tasks. With a clear workflow, there are no deviations from the pre-defined process's flow. All automated jobs are completed fast, uninterrupted and without errors. Naturally, accuracy and compliance are among the top benefits of RPA.
According to LexisNexis Risk Solutions, the cost of regulatory compliance reached $181 billion in 2020 for global financial services companies. The International Institute of Finance estimates that banks spend 3% to 5% of their total costs on compliance efforts. Automated processes executed by bots are programmed to adhere to compliance standards, policies and regulations. Furthermore, RPA makes regulatory reporting and auditing easier and faster.
Increased innovation
Free from the routine tedious tasks, employees can 'focus on higher-value tasks that require more advanced cognitive abilities' [Understanding RPA ROI, IRPA AI]. People could concentrate on what they excel at - thinking, reason, innovation, managing difficult cases and exceptions, etc. In a sense, this is 'taking the robot out of the person'. [Impact of Robotics, RPA and AI on the insurance industry: challenges and opportunities]
Enhanced customer service
When organisations consider RPA, one of the main drivers is to improve the quality of services offered to their clients. Bots become 'virtual robotic agents' responding to customer enquiries 24/7. Furthermore, by providing these bots with analytical information about customers, organisations can offer a highly personalised experience and achieve 'customer-relationship-systems-on-steroids' [Regtech as a new legal challenge, 2017]. Released human agents could, in turn, be used in areas of customer service where a 'social touch' is precious, for example, life or medical insurance claims. Considering people's emotional state using these services, dealing with human agents would be more appropriate and satisfying. Deploying RPA frees up staff to provide better and more personalised assistance when it's required.
Retaining legacy systems
For many organisations, legacy systems are the backbone of their operations. Replacing them would jeopardise not only the smooth running of vital business processes but also might require astronomical investments. RPA does not demand to replace incumbent systems because it automates processes 'as-is'. Still, it's advised to improve and optimise a process before applying RPA; otherwise, it could come back to haunt you later.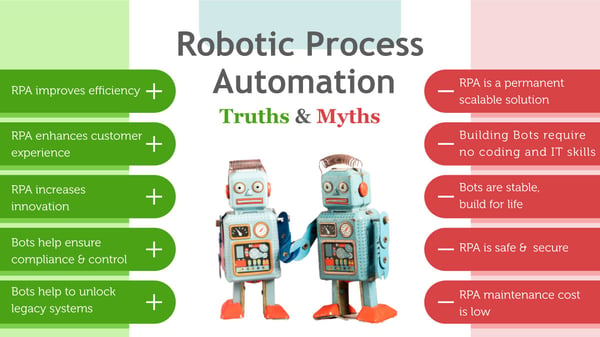 Where RPA fails.
Is RPA as good as we've been led to believe? Unfortunately, not. As with any technology, especially a new one, there are as many cons as there are pros.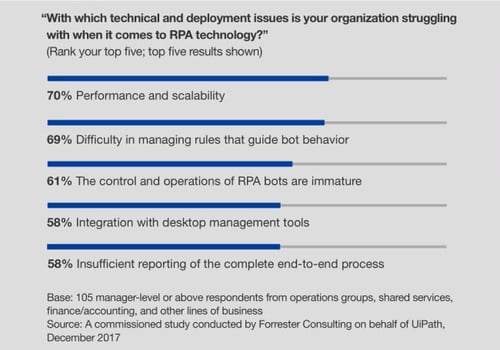 Source: The New Frontier Of Automation: Enterprise RPA, Forrester, 2017
As many as 30-50% of new robotic automation initiatives get stalled, abandoned or even replaced with other technologies (Get Ready for Robots, Ernst & Young Global Limited). Ernst & Young's report shows that in most cases, the fault is not with the technology but with organisations' expectations. Recent studies demonstrate that ROI from RPA deployment can vary enormously, from 30% to 200%. Why do some companies manage to successfully implement RPA and benefit from it while others fail?
Do bots deliver a fast value?
Speed is almost always one of the key factors when adopting a new software platform. Robots can be set up and deployed much quicker than an API-based network, but does it make RPA a clear choice? Not necessarily! RPA fixes the short-term difficulty but does not help resolve the underlying problem, which is why some refer to RPA as a sticking plaster. According to Ollie O'Donoghue, research VP, IT Services at HFS Research, when non-IT departments start introducing RPA, they're just extending the life of an old legacy system, which means they are, essentially, just buying themselves time. As a cheap and quick fix, RPA often underdelivers, as the maintenance costs are too often not considered from the start.
Can RPA actually be managed without IT?
Historically, IT departments are perceived as a state within a state, an invaluable unit that no one wants to deal with. As a result, when business departments have a need and buying power, they purchase RPA without consulting the IT team. Decisions are taken under a false perception that RPA doesn't need IT, and bots are easy to develop, run and support. Vendors describe their RPA platforms as no-coding tools but don't be fooled. RPA is just another software solution!
The praised drag-and-drop options are limited. When a complex process is to be automated, programming is unavoidable. RPA solutions need to be installed and, like any other software systems, they need testing, maintenance and support. Too often, when a technology department finally gets involved, the business might discover that the RPA doesn't fit into their overall strategy or simply the team is already overstretched.
Discussing RPA with all stakeholders at the outset is vital, including both business and IT. It is the only way to make an RPA initiative a success.
Citizen developers
'Citizen developer' is one of the latest buzzwords. What are they? According to Gartner, the term describes business users trained to work with no-code or low-code tools. In theory, the advantages are clear - massive savings on a dedicated IT team, fast implemented changes, and increased collaboration between departments. So, is it a real silver bullet?
When it comes to RPA, organisations should be aware that even low coding is still coding, and a certain level of training and technical thinking is required. Secondly, Citizen development is usually a slow and hard cultural change. Thirdly, any software development needs to follow strict testing and deployment processes, not to mention security standards. By giving everyone the power to create and share bots, we might open a can of worms that will be extremely hard to manage.
The human factor.
As mentioned earlier, bots free employees from routine manual tasks. What happens to the staff released by RPA? Do these people want to be retrained? Are they keen on changing jobs? Do organisations have a clear plan of utilising the newly available workers? All these questions should be raised and answered from the outset.
Are RPA bots safe?
It's almost impossible to discuss RPA without mentioning security. Risks can vary from external cyber-security to the internal dealing with sensitive data, unclear roles and responsibilities within the organisation, or lack of security management. Robots are given access to multiple systems, usually with the same hard-coded credentials. Which access should one give to a bot? Can you audit each robot's actions?
In April 2020 Treasury and the U.S. Small Business Administration announced that they would no longer accept Paycheck Protection Program loan applications prepared by bots. 'Without RPAs, the loan processing system will be more reliable, accessible, and equitable for all small businesses'.
If data security is a priority, avoid open-source RPA tools! Instead, select a reputable RPA vendor with well-established security processes and procedures.
Are bots stable?
Bots' stability is a common concern when it comes to RPA. The truth is, that bots are inherently brittle as they mostly rely on a change-prone UI layer. Any system upgrade that includes interface changes might require re-coding of all the existing bots. RPA robots are not as cost-effective as they may seem. Not only are the implementation costs usually higher than anticipated but also bots require a significant level of support and maintenance throughout their lifecycle.
"You're moving data between existing systems, and if those systems don't ever change, all is good in the world. But that's not really the case. So as systems evolve, things at the back end have to change as well",
- Albert Rees, the head of North America, EPAM.
The above problems make the RPA ROI calculation very complicated. It's the reason why some see RPA as technical debt. The organisation doesn't just pay for it once; there is a constant interest – the effort to manage and maintain it. In real life, some businesses experience that RPA actually slows down innovation instead of accelerating it.